Darksiders (PS3 and Xbox 360)
Posts
1 to 3 of 3
Darksiders
Coming Soon
Game in-style God of War. Buy itself a hundred poods. And until = >
In general, bought itself couple of days ago this igrukhu and. Not guesses wrong) MA – It qualitative and well research the graphics, convenient governance (hero obediently serves all actions without zapazdyvaniy), a new-fangled system bleeder individual and weapons. In a whole, if take all components Darksiders - before us an amazing and perhaps the most the favored clone God of War, for entire history. And this already a long.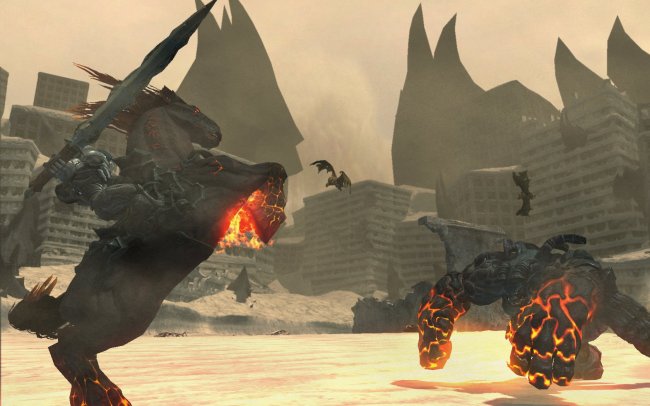 Has passed minutes 15 ago this game and here is - I hasten to share impressions! In a whole on DarksidersI have took slightly less 20 fringes hours playing time. But if given, that I, under the end of the especially, quite many doubled back and been collected hidden prizes plus periodically pose on pausing and watched video passage, the time of the game could be about 13-14 hours.
As I already spoke higher, Darksiders- this qualitative clone God of War, with however, a series of advantages and perhaps, a bit shortcomings. That, however, characteristically for any of the game. But about everything on order.
Telling about this game, want moreover or not, but will have periodically to compare its with God war. Military mechanics and governance in a whole, largely repeat God of the War ", that swing call raze cannot be, for the hero named War (War"), is governed by perfectly. Several species prokachivaemogo weapons, vserazlichnye gearsand other spetsvozmozhnosti (such, as for example spikes for a hellish that bronc, which will emerge you have in the second half of game) make battles amusing sport. Collection souls from killed enemies - deal usual and derive. On them can be buy improvements, itemsand new techniques. Bosses in Darksidersdelights the not only diverse tactics, but and size (Straga - one of major bosses, simply is enormous. War compared with him an ant), that again forces o.s. a special approach to to everyone.
A separate word need say about the mysteries of and uh, puzzles. Their in game great many and perhaps, if would I knew, FREQUENCY their me he meets - not fact, that's holed up would play, because, as mysteries must be in reasonable insufficient, and here they comprise roughly 40% of the game. Some logics and are simple, to other same sometimes know not as cope with the. Several times accounted for turn to prokhozhdeniyam, but unfortunately not always from them was understood. : Let, that already from despair one starts pull different leverage and to ride on any ustupam and suddenly, bam - has passed further! Or same here is still example - several times: Let such, that I simply zaputyvalsya and not knew, far need go. Like would and maps not too big, and artwork very qualitative, but here is the attitude goes up like in wall and's the locker for. 'll make you run times 10 across map and utterly accidentally you will find yourself what any a small stupenechku or hidden command this mission, clapping orders at themselves in hearts on the forehead, got a foul mouth from souls, southern further.
I'll just summarize it up next: Darksiderswell can take worthy place alongside God of War ", after all essentially both game are equal on the sum their benefit to and cons, and means both in his talent, the first! Who Needs like clever Slasher films and from whom there is Khvokh 360 or PS3 - recommend this toy. Ah and if consoles there is no - will be a good reason think about their purchase on leisure! And not forget - soon the Dante •'s Inferno! More precisely he already released and I soon pro him write!